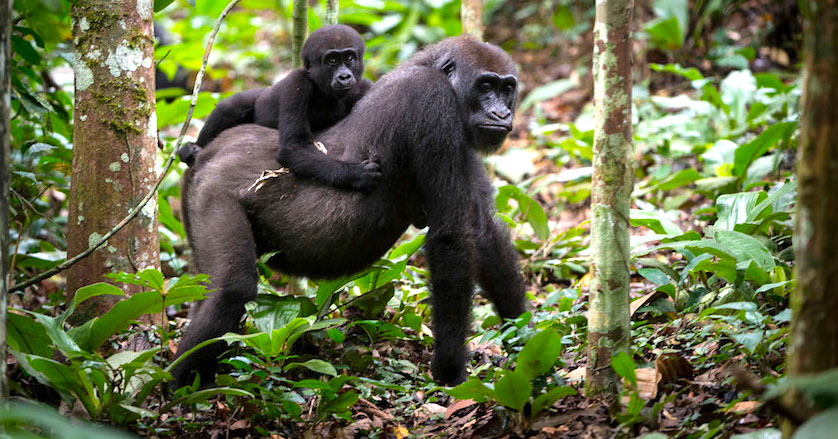 Uganda is one of the 3 only remarkable destinations in the world where mountain gorillas are tracked each day. The other destinations include Rwanda and the Democratic Republic of Congo (DRC).
Globally, there are fewer than 900 individuals of rare mountain gorillas that are left in the wild today and about 480 of them thrive within the jungles of Bwindi Impenetrable Forest National Park and Mgahinga National Park southwestern Uganda. These rare primates share about 98 percent of their DNA with humans making them to be very susceptible to human infectious diseases. Would you like to plan a gorilla trek in Uganda? Here is a complete guide to gorilla trekking in Uganda.
Where to trek mountain gorillas in Uganda
Bwindi Impenetrable Forest National Park and Mgahinga National Park are the two most stunning national parks where the rare mountain gorillas are tracked every day. These parks are situated southwest of Uganda and interestingly, trekkers can double trek in all the protected areas to help them make comparisons thereafter and to have amazing experiences. Mgahinga Gorilla National Park on other hand has only Nyakagezi gorilla family with only 10 members.
Getting to Bwindi Impenetrable Forest National Park and Mgahinga National Park
Bwindi and Mgahinga National Park are accessible both by road and air. Visitors can fly and land in Kigali International Airport-Rwanda then connect to Uganda about 3 to 4 hours' drive through the Chanika border to Kisoro town or Gatuna border to Kabale. These two towns act as gateways for Uganda's gorilla protected areas. The other option is flying up to Entebbe International Airport and then connect by road approximately 8-10 hours' drive from Kampala/Entebbe to Bwindi or Mgahinga National Park. For interested visitors, a 4 wheel drive car is the best choice for you to traverse through the remote routes to Bwindi. Alternatively, you can also fly from Entebbe Airport or Kajjansi airstrip to Kisoro and Kihihi Airstrips, Kisoro and Kabale district respectively where you will connect up to the park of your choice using a private means of transport.
How to obtain gorilla trekking permit in Uganda
For visitors who intend to undertake gorilla adventure in Uganda, gorilla permits are a must to have. The permits are obtainable at Uganda Wildlife Authority headquarters in Kampala or through a trusted local tour operator/agent at $600. About 96 permits are available each day for visitors to purchase and only 8 visitors are allowed to trek one gorilla families. The tour operator that you intend to deal with should be registered member of Association of Uganda Tour Operators (AUTO). AUTO members have opportunity to purchase about 80 percent of the gorilla trekking permits in Uganda and you have to obtain one as earlier as possible.
Accommodation in Uganda
When you think about gorilla trekking, choosing the best accommodation for your stay is a crucial factor that you need to consider. According to the Uganda Guide, there are lots of places where to stay on a gorilla safari within Bwindi and Mgahinga. If you need pocket friendly safari lodges, here are some of the notable lodges for you to choose from. Luxury lodges include Clouds Lodge (Luxury), Gorilla Forest Camp, Mahogany Springs, Buhoma Lodge while budget lodges include the Rushaga Gorilla Havens, Rushaga Gorilla Camp, Gift of Nature Lodge, Nshongi Gorilla Resort and many more.
What to put on for gorilla trekking
When it comes to gorilla adventures, you will need waterproof hiking boots, long sleeved shirts/T-shirts, trousers, gardening gloves, long socks, sweaters and many others.
In conclusion, mountain gorilla trekking is a strenuous experience that requires visitors to be physically well and only persons above 15 years are permitted to track these rare species.