There are millions of reasons you can ponder to explore the whole of Southeast Asia: beautiful beaches, delicious cuisines, staggering landscapes, and ancient culture. However, millions of visitors- from backpackers to newly married couples to families- are flocking to Southeast Asia covering- Thailand, Laos, Vietnam, and Cambodia.  If you are having a desire to see the heavenly beautiful sites in Southeast Asia, head to Myanmar tour– where the term 'beauty' gets new heart pleasing definition. Boasting epic and varied landscapes, snowcapped Himalayan mountaintops, quiet beaches, small villages home to indigenous tribes, a culinary experience that's unlike any other, and a chance to get truly off the grid, former Burma is one of the area's gorgeous undiscovered gems.
You might be thinking what makes Myanmar so different from any other place in Southeast Asia? Through this post, you will get to know everything about Myanmar which makes you curious to once visit such a gorgeous location by choosing Myanmar travel packages from a reliable agent…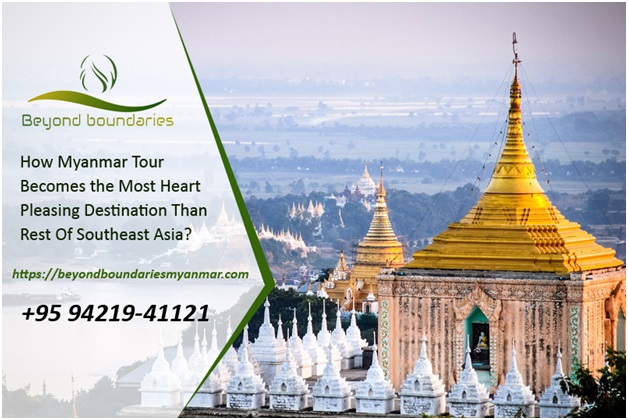 Tourism is relatively new to Myanmar
After a long wait of around 50 years of army-imposed isolation, finally, the day comes when Myanmar opened its gateway for tourism. Being a newbie in the tourism industry, Myanmar is the only country which has a certain 'untouched' quality that creates buzz. The curiosity to explore an undiscovered land is in itself the biggest reason to make it one of the most preferable destinations over other.
Myanmar attracts the attention of every traveler
Well, Thailand beaches are mostly covered with travelers who spend their nights slurping buckets of whiskey and their days napping off in their hangover under palm trees. Hopefully, this is absolutely not a fun trip for you. An ideal trip is one which is full of learning about the culture, knowledge of ancient history and peaceful location that always stays in your heart forever as golden memories of your life. Fortunately, Myanmar turned out to be just that ideal destination for travelers.
Most of the traveler chooses this place, not just to seek out nightlife and hookups, but instead to experience its warm culture, history, and nature which is its main USP.
Myanmar has a rich culture
Unlike its well-known neighbors, Thailand and Malaysia, Myanmar's unique and warm culture has not yet been diluted by westernization which is its good part. Myanmar locals still carry on their ancient traditions not just to entice foreigners' attention to take pictures with them. They are genuine and real people. Many of Myanmar's traditions are specific and unique to this country alone which also set it apart from that of other neighboring countries. From Buddhism to religious courtesy, wedding ceremony to clothing, and so on, warmly welcome vacationers to discover this promising land first-hand.
Final thoughts on Myanmar
Being the largest country on the Southeast Asia peninsula, Myanmar has its own uniqueness which is unparalleled and can't be overshadowed by its neighboring countries. If the whole information about Myanmar goodness build-up your curiosity, its high-time you should explore this golden land on a tailor-made Myanmar tour packages before it gets too touristy!